Thank-you for visiting Sharon DeLaCruz's website www.mycreativemoments.com
Return Back

2009-2016 Policy terms for scarf sales.
All SHARON scarves and including all scarves on this website are sold as you see it, with slight variation in colors. There are no two alike, and as a one of a kind scarf item only and cannot refund or exchange. WE pride ourselves on the highest quality and scarves cannot be returned. All sales are final. If you request a multiple of the same style, this is defined as a "special order" and there are no refunds once the order has been started and paid for with the 50% of the total cost paid in advance, before the order has been processed or the yarn materials purchased.

From: © 2009-2011 Sharon DeLaCruz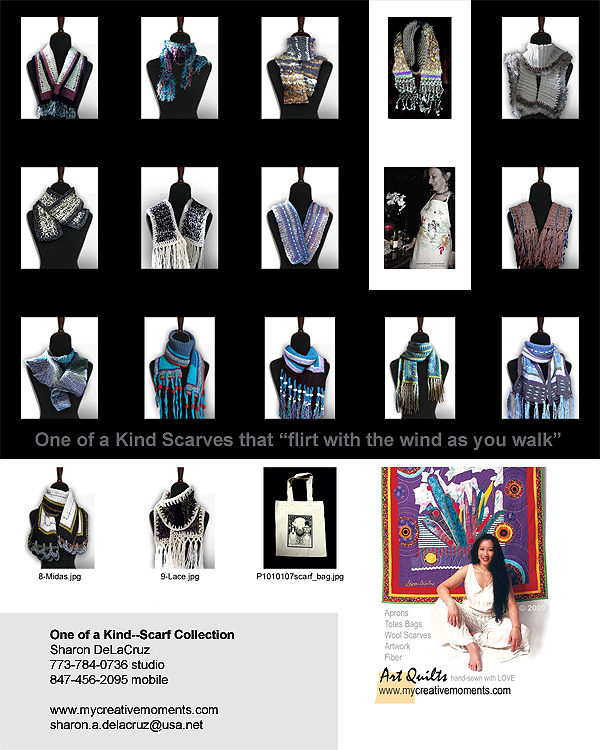 Sharon DeLaCruz One of a kind Quality workmanship.
People love Sharon DeLaCruz wool scarves because her One of a Kind scarf, very warm wool Scarves are beautiful.

Page 1 Comments
I love your scarf designs!
gahatloadgodesign@gmail.com
I love everything, especially your gift tags!!
J Woolf
Really beautiful scarves
Sara Spitz
Saraspitz@sbcglobal.net
Lovelove
Lawatkins@ameritech.net
Dire Sharon:
Quel beau travail!
Pat Klivington
Dear Sharon,
You do such beautiful work. . .
LeRoy
Sharon-
Great to finally meet you -- hope you get lots of business at the show.
Patty Loeffler
Loefflerp8@aol.com
Dear Miss Sharon,
It has been a pleasure discussing with you. I look forward to working with you in the future.
Jessy Doolin for Adele Red
Contact@jessydoolin.com
I love your scarves.
Sharon,
Love your scarfs. They are awesome.
Carlene
h.carlenehighy@netzero
Sharon
Awesome! Good luck and best wishes--
John Moran
Jwmoran3@msn.com
Your scarves are absolutely wonderful.
I'm lookin forward to owning one this season.
<Signature>
fashionmanaged.com
Love your scarves
Beautiful work
Martynei
Gorgeous!
Lynetteackman@gmail.com
Great scarves!!
Lisa Kalgh
Love your work.
Donna Turri
Dturri@cox.net
Page 2 Comments
You are amazing + inspirational --
Beautiful work
Billie Ross
Amazing story!
Judithrowehenry@hotmail.com
What an inspration you are! And a great talent!
Sharon Becker
Sbecker@rcn.com
You do beautiful work.
I still think Hawaii is a better place than Chicago!
Anne Miller
Millmom@aol.com
Your scarves are extremely artistic.
It must be rewarding to have people showing a little bit of you where ever they go.
Mauritz@juno.com
Carolol@hotmail.com
Peace and love
This is a wonderful book.
Thanks for sharing yourself with us.
Carol Thomas
12-04-2010
The most creative stuff--
And your choice + use of color + texture are FABULOUS!
Best of luck to you!
Jberenbaum@comcast.net
Your products are lovely--
Beautiful yarns + designs--
Keep up the great work!
Lynn Denenberg
Lynndyken@comcast.net
Cornelia Babbitt
Send e ticket!
Cellohorse1@yahoo.com
Beautiful and creative handwork
Caryl.f.loevy@ampf.com
Page 3 Comments
Love the purple shawl.
Scottschwaiger@hotmail.com
We are scarfed up with your wonferful creations!
From one Bauhaus to another...
Bob Lenzke, AIA
12/03/2010
Thank you for styling me with your beautiful scarfs! Well wishes for you!
Candice
Kikusassi@aol.com
Patricia Conley
Joshua <son>
Patcangel25@gmail.com
773 799 4355
Sharon-
Your scarves truly are a work of art. So beautiful +creative.
Thanks for sharing your talent!
Ruth
Rmaristdiva@hotmail.com
To Sharon--
I am glad to feel all of your scarves.
Love Andrea Kelton 12/04/2010
Sharon,
You have made the world your oyster.
Congratulations
Madelyn
Mrs123@mac.com
May you have good success business
Ma Cephus 2010
Beautiful! Great talent.
Susan Fox Gillis
Sfoxgillis@aol.com
Page 4 Comments
Sharon--
Thank you,you make me feel beautiful!
<signature>
Thanks!
Sarah Aiken
Sarahroseacting@comcast.net
Special & beautiful creations
Carole
eddieb3@comcast.net
Your work is BEAUTIFUL. Continue to follow your heart. Elizabeth Capbell
ec620@aol.com
A pleasure to see such beautiful art. Thank you for the experience. Mary C. & Susan T.
Here' to a woman with a story and beautiful spirit!
Nancy, Pam, Sue from the Chicago Western Suburbs
Loved your scarves!
Patrice Noonan
Beautiful color combinations
<signature>
Beautiful - such an inspiration
<signature>
Page 5 Comments
Sharon,
Beautiful & amazing scarffs.
Connie
Sharon -
You add a new meaning to wonderful!
Gerry Pilsen studios
Langstudios@gmail.com
My son will be very happy with his new scarf!
Mary S. :-)
Congratulations on your beautiful work!
Mary Johnston
medjohnston@yahoo.com
Send show information
I'm a budding quilter who need advice!
I love your beautiful artwork!
Blair Goldman
Turkleton18@yahoo.com
Sharon~
You are more beautiful in beauty & spirit every time we meet.
Thank you for bringing your light through your art! Love and peace.
Jeanette peace
Facebook Community 2010
People love Sharon DeLaCruz wool scarves
Marilyn Terpening -New York
Comments You truly are a Master Artist Sharon. Your work is so inspiring and diversified. I just recently read, The Talent Code by Daniel Coyle. I imagine you would realize master coaches in your life and may even be one yourself!
January 21 at 7:24pm

Lula Cervantes - IL
Comments Beautiful, They are very Beautiful. I will hope visit as soon as possible Congratulations!
January 6 at 8:28pm

Brenda Phung -Evanston, IL
Comments Sharon, I know you are a women of many talents but I did not know you are also a great photographer!! I have to admit that you are a super woman.
December 15, 2009 at 11:01pm

Marcia Davis - Seattle, WA
Comments This is the time of year for your scarves. Sharon, your works of art on everything you do is beautiful.
November 2, 2009 at 1:24pm
Fine Art America Community 2010
People love Sharon DeLaCruz wool scarves
Dan Earle
Hope, Idaho - United States
Comments
Fascinating drawing, and definitely one of a kind. The color really pops the figure and feeling of this work. Thanks, Dan
01/23/2010 04:54 PM
Norman Engel
Friendswood, TX - United States
Comments
Nice work! You do wonderful work.
01/24/2010 07:57 AM

Ken Day
Arlngton, WA - United States
Comments
Beautiful piece of artwork Sharon.
01/23/2010 02:12 PM

Carmen Cordova
Bronx, NY - United States
Comments
I was looking at your artwork and enjoyed it immensely.
01/24/2010 07:30 PM

Thomas Esch
Elkhart, IN - United States
Comments
Quite An Interesting Style You Have Developed Sharon, I'll Be Watching.
01/23/2010 07:55 PM
Shutterfly Community
People love Sharon DeLaCruz wool scarves

Joey-T
Comments I love your description and how you turned your injury into something positive and used the making of scarves as therapy for your hands. And now you have a great business. This is such a great idea for a photo book! I live in the upper Midwest so scarves are a necessity. I love all your designs and the fact you made them all yourself spells s.u.c.c.e.s.s ! What a talented woman you are and I wish you the best. Jan 21, 2010

Anderson Galleria, Chicago IL
Comments Great stuff, beautiful scarves and magical colors! Congratulations!
Beautiful work! Jan. 22, 2010

Barbara J
Comments Sounds like this may have turned your life in a different directions and what amazing scarves you have made. You are truly an artist. Thank you for sharing your book.
Jan 22, 2010

From an old Bauhaus designer. AEP Evanston, IL
Comments You've taken the pallet of the universe and put it together in magical combinations. Every page of your book is an adventure in color. Truly classic scarves that will flatter the wearer, excite the viewer. Jan 23, 2010